Programme
June 21
09:00 - Event Center opening at the event's arena
09:00 - Orienteering School opening in the arena
10:30 - First starts of the Long Distance Course
June 22
08:00 - Event Center opening at the event's arena
08:30 - Orienteering School Opening in the arena
09:30 - First starts of the Long Distance Course
13:00 - Cocktail and Awards Ceremony at the arena
Information

Event counting to the Portuguese FPO North Cup


The event will be held on Pedreanes map (World Cup 2000 and POM 2002)


Similar forest to WMOC 2008


2 stages with long distance courses


Sport Ident control system


The event will be under the Portuguese Federation Competition Rules
Age Groups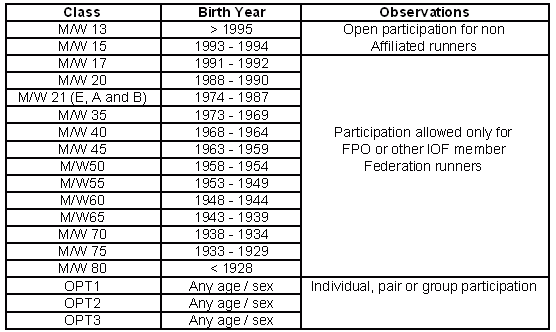 Each class is dependent on a minimum of 8 (eight) sign-ups. Whenever a class does not have enough sign-ups, its athletes will automatically be assigned the next available class.

Open classes
Any age, sex, affilliated or not, with or without former experience in orienteering events, and participation allowed individually, in pairs or in groups.
OPT1 - Easy and short
OPT2 - Medium difficulty
OPT3 - Long and technically difficult
These classes have no awards for first runners.
Awards and Souvenirs

Awards for the first 3 runners in all classes of formation and competition.


No awards given to the open classes but some souvenirs will be randomly given to open class participants.

Awards for the 3 best military runners, participating for their military units (classes chosen by RA4 organizers).

Award for the best club and for the best military team.
Contacts and Information
COC – Clube de Orientação do Centro
Mobile: +351914764932 - +351917645378
E-mail: 10ra4@coc.pt / info@coc.pt