Introduction
Mensagem from the Major of Leiria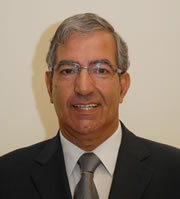 Welcome to Leiria!
It is with great pleasure that Leiria receives the XII COC 'O' Meeting, in parallel with XVI Latin Country Cup and XVIII Iberian Championship, in 25 and 26 of September 2010.
First words are to welcome all the athletes, trainers, families, supporters, social communication and visitors, that will provide an excellence sportive event.
The Leiria City Hall is once again associated with COC – Clube de Orientação do Centro, offering its support to an event that has so close contact with the nature, promoting a strong opportunity to promote the council and the region.
The collaboration with COC has been full of success and the greatest example is the WMOC'08 organization, which brought 4000 orienteer's from over 40 countries.
The Pedrógão National woods for Middle and Long distance stages, and the Leiria city centre for the Sprint stage, were elected since they provide ideal natural conditions for orienteering without forgetting the region offers to a well deserved active rest to all the participants.
I leave the challenge to everyone to visit our region, enjoying your free time, in cultural or leisure tours, visiting our rich built heritage, landscape and environment without forgetting to savour our delicious cuisine.
Raul Castro
Major of Leiria
Message from the Organization
Dear O Friends,
The Clube de Orientação do Centro invites you to participate in the XII COC 'O' Meeting that this year runs parallel with the XVI Latin Country Cup and XVIII Iberian Championship.
The organization, together with the several partners involved, is committed to provide satisfaction to all participants.
The choice of Leiria regions results from the excellence of their national forest, where detailed contour, terrain quality appealing to fast run and reduced visibility, have the right conditions for orienteering competition.
To help these characteristics, Leiria also offers a good road network, accommodation availability, gastronomic diversity, the many touristic and cultural attraction, the climate, the beach, all these sum up a valuable group of potential conditions for an weekend of active vacations.
The competition information will be gathered in competition site and here is possible to find all the necessary information.
Any further information should be requested by the official competition email.
Until the competition date,
The Organization