Food and Lodging

Food

Bar and restaurant service is available in the Arena of the two Pedrógão stages.

Accommodation

For accommodation solutions contact Leiria Fatima Tourist office
(www.rt-leiriafatima.pt/)

Casa da Estortiga - Gite Rural (Rural Tourism)






http://www.casadaestortiga.com/
Casal da Estortiga - Leiria
Miramar Hotel - S. Pedro de Moel
Contact: +351 244599141
Land's House - Bungalows
http://www.landshause.com/
Address: Rua José Maria Custódio, Burinhosa - Pataias (4 km - A8)

Reservation directly to bungalows, referring your club name to use the promotional price od XII MOC
Hard Flood
Two places are available for hard floor. Reservation is mandatory, through online OriOasis registration service (choosing the HF - extra hard floor option);
Local 1: Sport pavilion of Carrier School (west of EN109 road), from 18h of Friday 24 of September until 15h of Sunday 26 of September;
Local 2: Sport pavilion of Carreirense in Carreira, (west EN109 road), from 15h of Saturday 25 until 9h of Sunday 26 of September;
Athletes should bring their on mattresses and sleeping bag;
This service is free of charge to the participants;
Call of attention to the behaviour, respect for the facilities and for each other is requested. Respect for the silence and attention with the hygiene rules of all the space (sport pavilion and bathrooms) is requested;
It is forbidden to use competition shoes inside the sport pavilion, including bathrooms.
Natinal Teams accomodation at RA4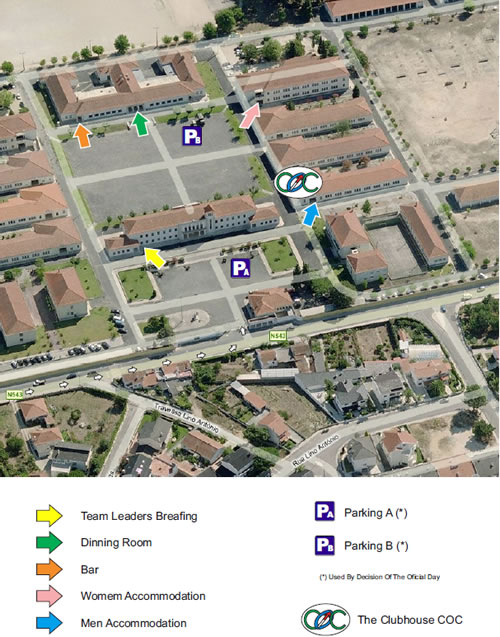 Click here to download the plan in PDF format